In The Evening (When The Sun Goes Down)
Big Bill Broonzy was born in 1893. In that year Thomas Edison's phonographic cylinder had been around for about a decade and a half and the gramophone disc—which would become the two-sided 78rpm record—was just beginning to find its way into the marketplace. Broonzy died in 1958, by which time the 331⁄3 rpm LP was dominating the market in many areas and moving in on the rest. All of which is to say that his life roughly corresponded to the era of the 78 rpm record. Much of his life's time was dedicated to producing those disks, not only as a featured singer and guitarist, but as a songwriter, producer and sideman on hundreds of records with dozens of artists, especially while working for Lester Melrose at Bluebird in the 1930's and 40's.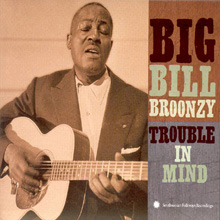 The point of this little prologue is to provide some context for the spoken remarks you hear from Broonzy on the first audio clip below. It was recorded live in concert in 1957. Broonzy had then been living with a diagnosis of throat cancer for over 2 years. At such times a person is moved to reflect, and here Broonzy reflects on something we might well ponder ourselves. Namely, why we would want to keep old blues songs alive? Why sing the Mule Ridin' Blues or tell that old saw about Frankie and Johnny again? After all, Broonzy was speaking and singing at a time when Danny and the Juniors were rockin' it At The Hop. Elvis was begging you, "Don't say 'Don't'." And The Champs were tempting you (decades before Pee Wee Herman got into the act) with Tequila.
We've got our own reasons for loving the blues. Chief among them is that they make for great, accessible jam tunes. But Broonzy saw the tradition—lived the tradition—in a way most of us never will. So he answers the question in a more personal and, I find, touching way. After his spoken remarks we get to enjoy a sampling of his take on one such old blues tune, In The Evening (When The Sun Goes Down).
Audio Clip: Big Bill Broonzy's spoken intro to In The Evening
Audio Clip: Big Bill Broonzy sings and plays In The Evening
As Broonzy recounts in the clip above, he had a personal relationship with the song's author, the great Indiannapolis-based pianist and singer, Leroy Carr. Though Carr was born 8 years later than Broonzy he wouldn't come close to living long enough to enjoy the folk and blues revival of the 50's and 60's. His music career started in earnest in 1928 when he and his guitar-slinging counterpart Scrapper Blackwell waxed How Long Blues for Vocalion. It was a big hit and it provided the two men many professional opportunities for the next 7 years. What it didn't provide, however, were the resources Carr needed to manage his alcoholism. They recorded When The Sun Goes Down in February of 1935. He died two months later at the age of 30.
Our next audio clip is that original recording of the song. Among the things we'll be exploring on this little tour is the way each artist puts his or her own stamp on it, not only as a vocalist or in terms of instrumental technique, but right down to the harmony of the song—the chord progression. In our Community Guitar arrangement we've opted for a very straightforward 12-bar blues structure because we want to make it easier, not harder, for others to jump on board in a jam. But as we will see as we amble along through this song's history it, like all blues tunes, leaves lots of room for reharmonization.
Listen, for example to the opening 2 bars of this next clip. Carr plays the tune in Bb and in the first measure he lays down a simple I chord with the 3rd of the chord (D) in the highest voice. In the next bar you can hear the chord change to V7 (F7) in the context of which, that high note dips down a half step (to C#). Pop quiz: what's C# in the context of an F7 chord? Right—#5! Pretty hip for a blues guy, and not at all atypical of Leroy Carr contributions to the urbanization and sophistication of what had been a country blues tradition.
Audio Clip: Leroy Carr and Scrapper Blackwell perform the original When The Sun Goes Down
Another of the artists Bill Broonzy could easily have been referring to in his remarks was born Lizzie Douglas but best known as Memphis Minnie. Broonzy and Minnie connected in Chicago in the early 1930's where he played second guitar for her for a time. (Unfortunately, never on record.) Mind you, I did not say he played lead guitar for her. In her wikipedia entry and elsewhere, Broonzy is said to have recalled her beating him and Tampa Red in a guitar contest. She was almost the same age as Broonzy and outlived him by a decade and a half. But owing to ill health her musical career was over by the time he recorded the tracks we heard above from 1957.
She herself had recorded When The Sun Goes Down not long after the original, in 1935. Unfortunately the track doesn't provide a particularly striking demonstration of Memphis Minnie's guitar skills, but it does offer another occasion to explore the harmonic variations in the recordings we're surveying here. In this instance the chord progression she uses (in the key of D) differs slightly not only from ours, but from her own from chorus to chorus. The variations amount mostly to splitting some full measures of the I chord into two and playing I–V7 instead. That's something you want to recognize by ear and a handy device whenever the monotony of a long-held I chord could use a little breaking up. See if you can hear it happening here.
Audio Clip: Memphis Minnie sings When The Sun Goes Down
There are many other fine country blues versions of this song out there, including distinctive takes by Lightnin' Hopkins, Brownie McGhee and Lead Belly. But when we add to that list names like Joe Williams, Red Garland, Ella Fitzgerald, Count Bassie, Lou Rawls and Mel Torme, you realize that this song just couldn't be kept down on the farm. So for the last leg of our tour we'll visit some of the more citified arrangements In The Evening has inspired.
Like this relatively peppy take on the tune featuring the sparse accompaniment and melifluous vocals of the Ink Spots. Check out the harmony of the opening 4 bars (now in the key of G) which they render thusly, with each chord being played for a full bar: I – I7 – IV – I. And while you're listening, consider tackling the opening instrumental solo as a little ear training project. In term of difficulty I'd place it somewhere between Solo 1 and Solo 2 in a typical Community Guitar arrangement.
Audio Clip: the Ink Spots singing When The Sun Goes Down, 1938
Ten years later vocalist Jimmy Witherspoon gave the song just the straight-ahead jazz ballad treatment it cries out for. On this recording, the harmony of those opening bars can be most easily deduced from the high horn you hear come in just as 'Spoon starts to sing. This arrangement is in Ab and the horn sits on the root of that chord for the whole first bar. It then descend by a whole step for all of bar two. It descend by a half step on beat one of the third bar and does so twice more, moving down chromatically every two beats, to arrive on Eb for bar 4. Pop Quiz: what's the implied harmony? I say it's the same as the Ink Spots' progression above with one small twist: in the third bar, the IV chord is major for two beats, then minor for the rest of the bar. In our key (E) that would give us opening bars of: E – E7 – A, Am – E.
Audio Clip: Jimmy Witherspoon, In The Evening
Now let me ask you—if you were a performer, how would you like to go on after Ray Charles?
Didn't think so. So we're going to let brother Ray have the last word. Surfing the stacks of the World Wide Web I have run across the claim several times that Leroy Carr was a significant influence on Charles. Makes sense to me. But whether the claim is true or not, it is certainly undeniable that both men knew how to plumb the depths of a blues tune while still retaining a high level of musical sophistication. Charles amply demonstrates that capacity in this live concert performance from his heyday in 1964. I hope you're not in a big rush. To get the full effect you'll need to get your hands on the complete track, which runs nearly 7 minutes. And listen to it at sunset.
Audio Clip: Ray Charles, In The Evening (When the Sun Goes Down)